Who doesn't like watching horror movies? Well, it's not something universal because some people don't have the heart for it. But if you're not one of those people and do like to watch such movies, then we've got just the perfect list for you.
Yes, you read that right! We're sharing some of the best titles of this year with chilling ratings, horrific storylines, and of course, jump scares that can throw you out of your place. And since we're focusing on horror movies, there's no point in watching them in low quality.
Since almost all horror movies often take shadow in the darkness, it's important you view these in high quality so that you can catch the amazing yet gory graphics. For that, you must download or stream these in 4K at least.
But mind you, just like sacrifices are required in horrific rituals, you'll need to sacrifice your data too. But if you don't want that to happen, we recommend checking out Xfinity internet packages because it has a data cap of 1 TB, which, is somewhat equal to not having a data limit at all. So, the problem is solved! With this, let's check out the titles now:
1. The Nun II
The second edition of the infamous Nun has been released, and it's as horrific as it can get. With quite some positive reviews and ratings, the movie hasn't disappointed at all when it comes to giving jump scares and whatnot.
As always, the movie surrounds the powerful, evil presence of the Nun in the continuity of the previous edition. However, this time, another evil persists and Sister Irene is investigating the murder of a fellow priest, who wasn't so lucky. What happens when she comes face to face with the Evil in the face of the Nun? Well, you'll have to watch to find out!
2. Evil Dead Rise
We've seen some amazing versions of this title. However, with the passing years, the producers couldn't resist launching another title with more goriness and well, horror plot. But this time, the evil isn't coming to capture. Rather it's here to set itself free!
With a mother and her children experiencing a devastating earthquake that shuts down everything in their building, one of the kids accidentally releases the evil from its grave. Not knowing what it's about, he, accidentally lets the evil loose on his family.
As always, it's looking for a host and wants to go on a killing spree, which it unfortunately does on the family. What happens to them? You don't want to know or do you? If you haven't, then it'll surely be a good horror pick for you!
3. The Boogeyman
We've been told to sleep or else the Boogeyman will come to eat us! Well, little did our parents know that this little horror story would come haunting us or more likely, feed on us. That's the story of this year's Bogeyman!
What's worse is that the family under focus in the movie is already mourning the death of their mother. However, the father is getting worse because not only he's mourning the death of his wife but he's also a therapist, which means he has to compose himself for other people.
But little did he know that one of his patients would bring such a menace or rather, a dark entity and unleash it on his family. You guessed it right! What happens next? You'll have to watch to find it out!
4. Saw X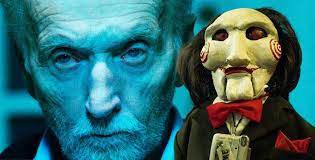 The Saw series has never failed to disappoint! Over the years, we've seen some gory-filled movies from this series that have literally given us jump scares that would race our hearts for hours, and the latest edition is nothing less!
But this time, Kramer is using his ingenious traps on con artists who have conned him into coming for what they claimed was a life-saving experiment. Well, since Kramer has little left to live due to his disease, he makes sure that those con artists experience his wrath.
As always, he ensures that he goes over the top to bring some heart-racing, gory, and chilling methods to torture and ultimately lure his victims to death. We're pretty much excited about how he does it this time, are you?
5. Infinity Pool
What happens when you step over the lines? You get punished or worse, executed or worse, getting someone killed for your sins. Well, Infinity Pool is a story where a couple finds themselves in a complex situation.
The story revolves around a couple on vacation residing in some fancy resort. However, they soon realize that the resort has a zero-tolerance policy against crime, as little as littering. Where every punishment is the death penalty, the couple manages to pay for freedom in exchange for having someone else die for them.
The horrifying thing about it is the couple constantly paying to escape the minefield of executions for the smallest of crimes, and then watching other people being executed in the most gruesome way. As horrifying as it sounds, you'll have to watch it to get a better idea!
6. The Pale Blue Eye
Well, this isn't exactly a horror pick, but the storyline is quite interesting and if you've had enough of jump scares, you can surely watch it. The story revolves around a mysterious spree of murders in the US Military Academy at West Point, NY
The academy hires Augustus Landor played by none other than Christian Bale, who ensures to reach the end of the hunt and find the ultimate killer. However, as the story unfolds, something horrifying baffles everyone, and you'll surely be enticed to know the true killer of the movie. If you haven't watched this amazing piece, do so.
Closing Notes
Well, these are some of the amazing horror titles of this year that you should definitely give a try. Make sure you're all comfy and have cushions around because you'll probably be hiding or jumping out of horror watching these titles!